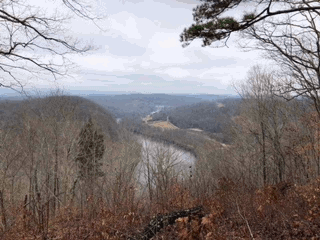 The Muddy Boots hiking group is sponsored by the New Villagers Club and enjoyed by many Villagers - new and not so new! Because you can join and stay with this hiking group for as long as you wish.
Muddy Boots explore interesting hiking trails throughout eastern Tennessee (including the Smoky Mountains and the Cherokee National Forest). Hikes are scheduled for the 2nd Monday of each month [rain date on the 3rd Monday].
Hikes are led by a different "team" captain each month and are rated from easy to moderate, depending on the terrain. The hiking distance is generally 4 to 5 miles. Participants generally meet at the Chota Center parking lot [across from the gas station] around 8 AM to car pool to the designated hiking area and arrive back to the Village between 2-4 PM that afternoon. Hikers are encouraged to pack trail snacks, water or lunch. Hikers provide gas money to the driver. Learn more by visiting the Muddy Boots Hiking table at the monthly New Villager Socials (1st Thursday each month)
Muddy Boots membership is free. Join Muddy Boots by joining our email distribution list on TellicoLife. You will receive announcements and instructions for joining our monthly hikes.
Follow this path to join our distribution list

My Community > My Features > E-Lists

For more information about how our e-list works, check out our Muddy Boots E-list guide
Click here for a list of our hikes or view our Hikes on the TellicoLife Calendar

Tip: Search for Muddy Boots
---
The 2019 Club leads are
Phil Brenner [email protected] 703-774-4778
Kevin Fusco [email protected] 561-213-0449
Hike Ratings:
Easy– Less than five miles and 500 feet elevation gain with good trail conditions.
Moderate – Exceeds easy hike limits. Trail conditions may be narrow, wet, rocky and contain roots
Challenging Moderate – Exceeds one of the moderate hike limits or may include more difficult trail conditions.
!!! Reminder !!! Please remember to take identification, contact and emergency information with you on all events, hikes, raft-offs and trips