---
1st Lt. Alexander Bonnyman, Jr. VFW Post 12135 meets on the third Wednesday of each month (Except December) at 7:00pm in the 5th floor Gallery of the Tellico Village Yacht Club.  Please check our website
www.tellicovillagevfwpost.org
,  email 
[email protected]
or call us at 865-408-8061 and leave your contact information.
 All current VFW Members and potential members welcome. 
Breakfast With Vets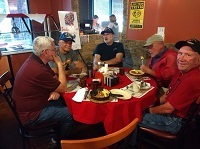 We invite all veterans, spouses and guests to attend our monthly "Breakfast with Vets" event held the second Saturday of every month in Tellico Village at Little Italy of Tellico 316 Lakeside Plaza
Loudon, TN 37774 8:30-10:00 am. No speeches, no bull - just vets getting together over a meal."
SEPTEMBER IS NATIONAL SUICIDE AWARENESS MONTH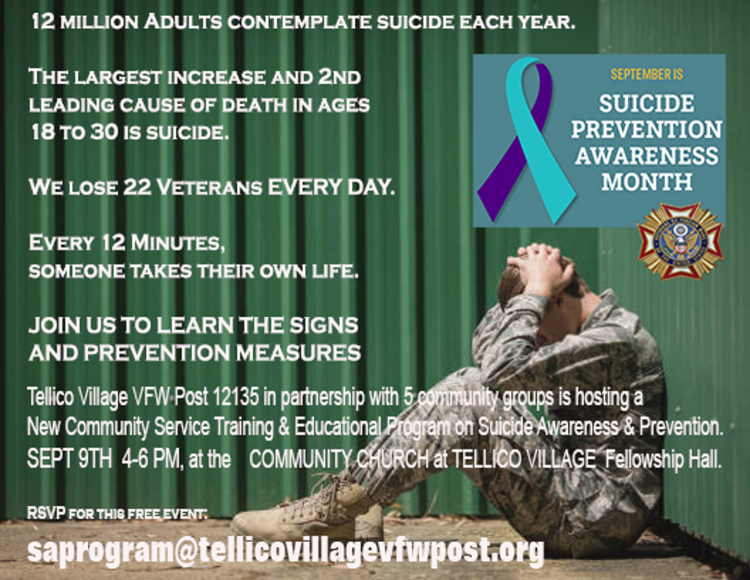 ---
MIDDLE EASTERN VETERANS ATTENTION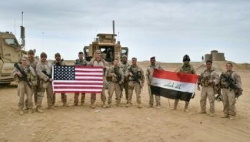 The Tellico Village VFW Post is actively seeking veterans from all services who served in or in support of U.S. operations in the Middle East. MOS is irrelevant. If you received and/or were eligible for an expeditionary medal, you are eligible to join the Veterans of Foreign Wars of the United States. The Tellico Village VFW Post currently has several Middle Eastern vets, but is looking for more. We know they live in the Village, but may be deterred from joining the VFW thinking about past stereotypes. This post is not your grandfather's VFW!!! The primary mission of this post is to assist veterans with unmet needs in Loudon, Knox, Monroe, Roane and Blount Counties.
If you know of a veteran who served in the Middle East, please pass this on to them. For additional information call the post at 865-408-8061, or send a message to [email protected]. Learn about the post at www.tellicovillagevfwpost.org, or see us on FaceBook at www.facebook.com/TVVFW.
Click on the links below to learn more about VFW Post 12135.
---