---
Core Values
We value communicating the unchanging message of the Gospel of Jesus Christ through the Holy Spirit.
We value the Holy Scripture as the inspired Word of God and is our only source of instruction in living a life-changing relationship with Jesus Christ.
We value growth in the Kingdom of God through evangelism and missions.
We value worship through corporate services and personal lifestyle.
We value every believer using their spiritual gifts in involvement in ministry.
We value all ministries that equip believers into Christ-like development.
We value contributions of all believers as we blend in Christian fellowship.
We value diversity in backgrounds as we build caring relationships.
We value investment in the Kingdom of God through tithes, gifts and offerings.
We value cooperating with other Christian Ministries and organizations in our community and surrounding areas in fulfilling the Great Commission.
---
Our Purpose
Love God, Love Others, and reach our world for Christ.
The purpose of First Baptist Church comes from Mark 12:28-34 (love God and love others), and Matthew 28:19-20 (reach our world for Jesus).
---
Click on any of the images below to learn more about The First Baptist Church of Tellico Village.
| A Word From Our Pastor | Ministry Team | Bulletin |
| --- | --- | --- |
| | | |
| Fellowship Meal | Bible Study | Coming Events |
| | | |
| Worship and Music | Sermon Podcast | Contact Us |
| | | |
---
Worship Times
Sunday
8:50 a.m. - Bible Study and Worship
10:15 a.m. - Worship and Bible Study
Tuesday
11:30 a.m. - Handbell Choir Rehearsal
Wednesday
3:15 p.m. - Orchestra Rehearsal
5:30 p.m. - Fellowship Meal / Prayer Meeting & Bible Study
7:00 p.m. - Choir Rehearsal
---
Church Location
First Baptist Church of Tellico Village
205 Chota Road
Loudon, TN 37774
---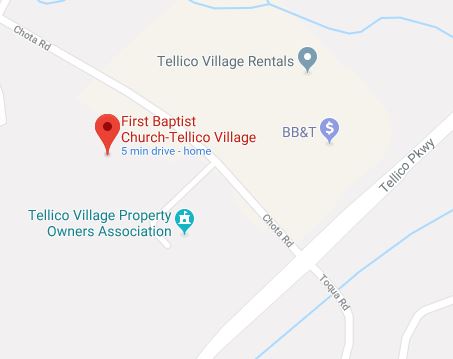 ---

 
To access this page directly, bookmark: http://www.tellicolife.org/first-baptist-church-of-TV
---