Who we Are
Kiwanis is a global organization of volunteers dedicated to improving the world one child and one community at a time. The Kiwanis Club of Tellico Village is dedicated to serving the local community through various services and fundraising projects. Our club has been in service to our community for more than sixteen years. We are part of Kiwanis International, an organization serving children for over 100 years.
We'd love for you to come join us at one of our meetings or a service project. Please go to our Contact page and drop us a line! Someone will get back with you.
---
TELLICO WORKING TOGETHER  - A COORDINATED EFFORT TO IMPROVE THE COMMUNITY
Seven organizations operating independently, each accomplishing their organizational missions, can do a lot of good for the community. But when they band together to help each other accomplish those same missions, the synergy generated by those relationship magnifies the impact each can have. This is exactly the mission of the newly formed Tellico Working Together Group. While still in the start-up stage generating plans and ideas, the future looks very promising.  
The seven member Tellico Village organizations, four service clubs and three churches, include the Lions,  Kiwanis,  Rotary, the  Women's Club (GFWC), the  Community Church, the  First Baptist Church and the  Shepherd of the Lake Lutheran Church. Collectively, their membership represents a significant percentage of the population of Tellico Village. Each has a different mission focus area. For the Kiwanis it is children; the Lions, vision and sight, the Rotary is schools and dental health; the Women's club focuses on social issues affecting women and families in the community; and the three churches on serving the spiritual needs of their congregants as well as filling unmet needs in various social and economic areas in Loudon County.  Click here to learn more.....
---
 Our Next Big Event Will Be The
Spring PANCAKE BREAKFAST & BRUNCH
The Spring Pancake Breakfast

Has Been Postponed Indefinitely
---
 Projects and Activities
Our Kiwanis club participates in a variety of projects throughout the year that involve fundraising, community service, and assisting children locally and worldwide.  Additionally, we have speakers at our bi-weekly meetings to explore topics of interest to the membership. We engage in a number of social activities to share experiences, talents and our collective interests. All represent great opportunities for service, friendships and personal growth.

Below are some of the projects and activities in which we are currently involved: For a complete listing of our projects click on the following link.
Pact

Parents As Children's Teachers

Check out books to Kindergarteners for their parents to read to them
Complete activity sheet with parent

RTI (Reading Tutoring Intervention)

Participate in the Rainbow Reading program at Lenoir City Elementary
Tutor children under the direction of a teacher.
An important program that has helped improve the progress of LCES to very high ratings.
Amtryk Program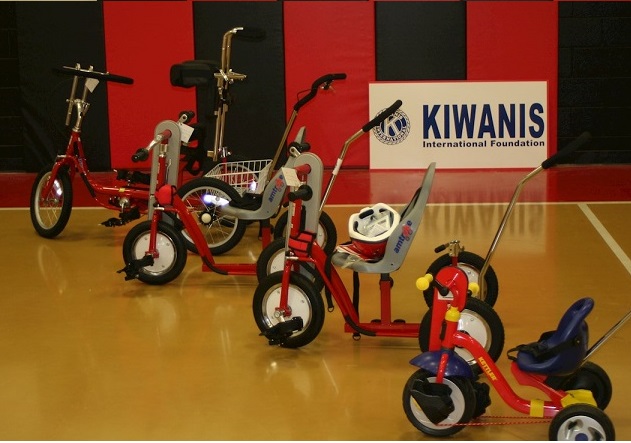 The Amtryk program is one of the club's signature undertakings.
An Amtryk is a tricycle specifically designed to match the special needs of a child with physical or mental challenges. The club works with physical therapists in the community to identify these special children for whom and Amtryk would be a benefit. The program has been recognized by the KY-TN District as well as Kiwanis International as an outstanding contribution to our kids.
---
 Brief Club History

The Kiwanis Club of Tellico Village was chartered as one of 7,700 clubs in 80 countries in 1999. Our motto is "Serving the Children of the World".
On March 16, 1999 the Kentucky-Tennessee District of Kiwanis International chartered the Kiwanis Club of Tellico Village sponsored by the Kiwanis Club of Sweetwater. The Club became part of Division 4 of the Kentucky-Tennessee District.
The Kiwanis Club of Tellico Village has succeeded in attaining the Distinguished Club Award every year of its existence. It boasts having many Kiwanis International Hixon Fellows, Distinguished Presidents, Lieutenant Governors, and one District Governor.
For a more detailed history, click here.
---
Join Kiwanis
We'd love to tell you more about our club. Below are the best reasons to join.  If interested, click the Join link at the bottom of this section and fill out the form. We look forward to hearing from you!
The opportunity to help
We believe that those who give the most are the happiest. There is nothing more beautiful than individuals who reach out to make other people's lives beautiful. It teaches us the value of service to others and shows us how important our contributions are in making this world a better place most especially for the children. 
Personal growth and development
Membership provides education in human relations and personal development. Being in service to others develops good character in every person. It gives us experiences that teach and develop us to become better individuals. 
Make friends and be part of something great
Being a member allows one to take part in the many activities and projects we create. We have a great group of members who enjoy spending time with each other for the betterment of our community.
---
Kiwanis Club Meetings
The Kiwanis Club of Tellico Village meets from 11:30 AM to 1:00 PM on the 1st and 3rd Tuesday of every month at the Tellico Village Yacht Club, 100 Sequoyah Road, Loudon, TN