GFWC Tellico Village Women's Club
Who We Are:
Who We Are:
GFWC Tellico Village was the first community service club to be formed in Tellico Village.  We began in 1996 and celebrate our 25th Anniversary in 2021.  We are a chapter of the General Federation of Women's Clubs (GFWC), an international women's organization dedicated to community improvement by enhancing the lives of others through volunteer services.
Learn more about us at GFWCTellico.org
Contact us at [email protected]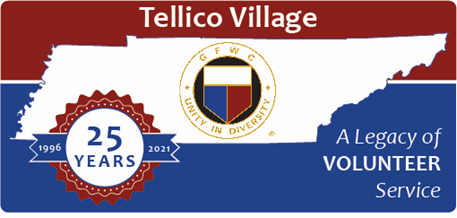 Help us celebrate our 25th Annual Home Tour this November 7, 2021.
GFWC Community Service Programs focus on the major issues of our time – supporting women's health, preserving natural resources, promoting literacy and equality and encouraging volunteer service – and fall into the following Community Service areas:
Art and Culture
Environment
Civic Engagement and Public Issues
Education and Libraries
Health and Wellness
Current efforts include
Packing food bags for the Loudon Elementary School "Weekend Food 4 Kids" program
Coordinating school supply drives for local area schools
Assisting the Public Library at Tellico Village with the Library Reading Program and the Little Lending Libraries
Providing hands on assistance at Good Samaritans and Child Advocacy Center
Participating in Habitat for Humanity building projects
Supporting IVAS (Intermediate Vital Assistance Service)Support Operation Smile by working together to provide needed patient needs (hospital gowns, blankets and no-no bands
Annual Home Tour - Save the Date
Our 25th Annual Charity Home Tour is scheduled for November 7, 2021 from 1 – 5.  Come and visit four homes in the Tellico Village neighborhoods.  We also have Sponsor tables and refreshments at the Yacht Club.  Details of the event can be found on the TellicoLife calendar and under the Home Tour section on our website GFWCTellico.org.
---
GFWC on
TellicoLife
We advertise our Annual Home Tour and monthly meetings on the TellicoLife Calendar.

Membership
We welcome any woman to join us.  Our club works together to promote the purpose of the organization, encourage unity and good fellowship among members and volunteer with us.
For more information visit our website or contact us at GFWCTellico.org or [email protected] 
To access this page directly, bookmark www.tellicolife.org/GFWC-TV-Women-Club